Did you FOE that member?
I also have that member as a selected Friend (Green "Friend" banner shows for me), but I did not "FRIEND" that member.
I do not have that member showing as a FOE, though.
On a related note, "member" 4 has a friend banner, and shouldn't. (that is an account that was created and used during the [RINGS] games.
I have foe'd member "4", and that profile shows both for me, just like ape does for you.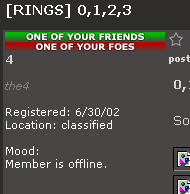 Must be a glitch, as it should be one or the other. But the puzzling part, is how did the friend banner appear, when there was no selection made, to friend that member??
Edited to add....
I do however have "apex" selected as a friend.
This problem might be related to what member "Dae" has posted here:
www.abovetopsecret.com...
[edit on 7/11/07 by Mechanic 32]