Greetings, Peace to All.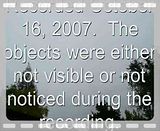 s241.photobucket.com...
Here is a video which demands analysis. I already know some things it isn't--such as raindrops, dirt in the camera, and/or lens flares. Now I would like to know what it, or excuse me - they - are.
This video shows clearly 3 objects 'popping in' to view. But the video is not clear enough to show exactly what they are. Maybe someone here can analyze it better than I.
If you do choose to do an analysis, could you please be serious about it? I mean serious as in seriously analyzing. Not talking about friendly conversation. That is always welcome.
I will be sorely disappointed if someone comes up with one of the explanations I have already said can't be. I am not a serious researcher on this stuff, and if I can figure out what it isn't, then surely the people who do this a lot can figure that out as well. It's not that hard to do.
Looking forward to some great explanations. Peace to all.
Jim
[edit on 27-10-2007 by jim_ruff]
[edit on 27-10-2007 by jim_ruff]
[edit on 27-10-2007 by jim_ruff]