I was looking for an Ad-Banner blocker for KayEm to use on a game site and came across Ad-Annihilator.
I installed it and ran it. When the trial period ended, I expected to get a message and would have removed it from the system using 'Add/Remove programs'.
No such luck - Once the trial period had ended, I
did
get a warning message, so off I went to 'Control Panel'' to remove it. Unfortunately not only did I get the Ad-Annihilator message, message, but the sodding thing screwed up the window.
This is what I got whenever I tried to access 'Control Panel' :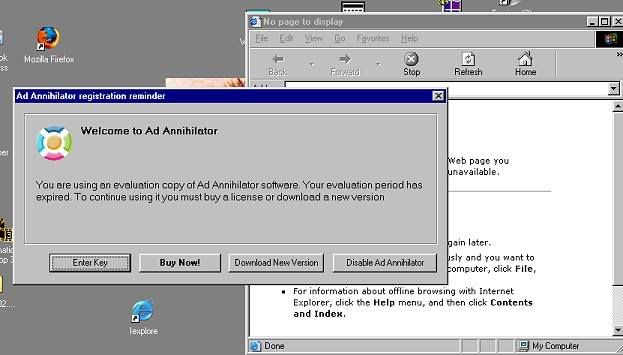 It gets worse - The piece of

crashed'
every
window - 'Control Panel', 'My Computer', you name it, it got screwed.
So I edited the registry - no luck. I was about to reinstall Win 98 when I had an idea. I clicked on 'Control Panel' which crashed, leaving the Add-Annihilator message on the screen. I
Then
clicked on 'My Computer' (without removing the offending message) and lo and behold, it worked. Just as well otherwise I would have been somewhat pissed off at the whole thing.
What a pile of