All over the country their are Underground Bases some you hear of and others that are beyond top secret
The birth of Silicon Valley came from the 1970's and the semiconductor boom Apple, Hewlett-Packard, Adobe Systems, Cisco, Intel, Oracle and Microsoft.along with many other high tech companies Santa Clara County is to home Silicon Valley and has almost 1.8 million residents where Cupertino is a suburb in the west SCV with 50,000 residents and The headquarters of Apple Inc
On October 5, 2011, the Lehigh Permanente Cement Plant was the site of a shooting around 4:15 a.m. during a meeting at the facility to discuss safety issues its claimed that an employee named Shareef Allman shot and killed three people.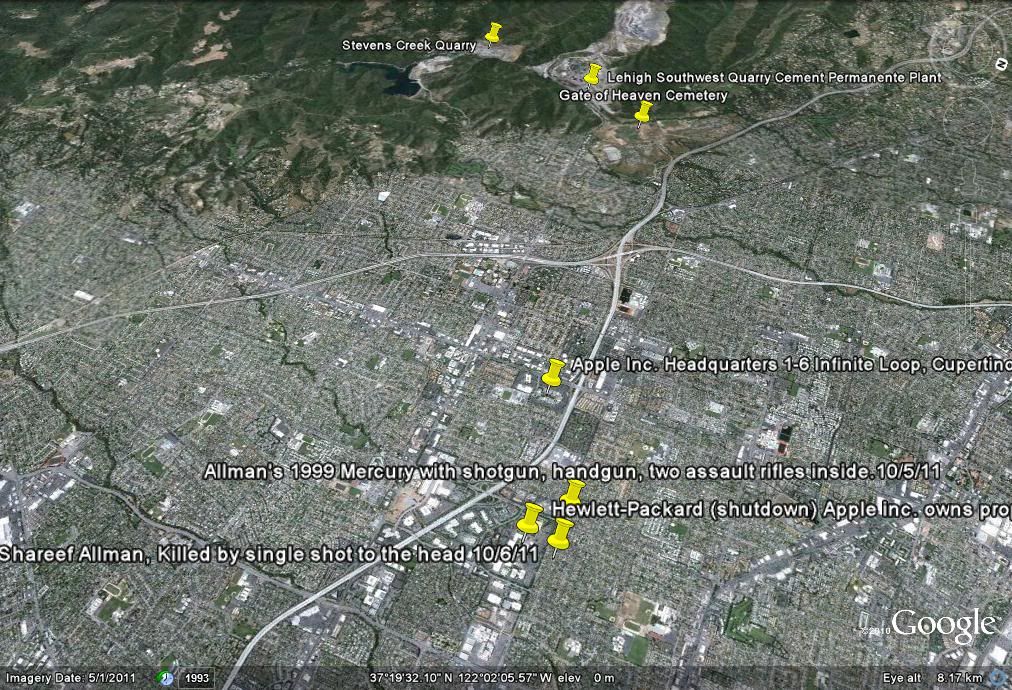 At a news conference, the Laurie Smith the Sheriff of Santa Clara County said that Allman was disgruntled at his employer, but she did not know exactly what the issue was.

"During the press conference, Sheriff Laurie Smith named a host of law enforcement agencies involved in the manhunt, including the FBI, US Marshals, Homeland Security, and San Jose, Santa Clara, Campbell, and Sunnyvale police departments."
She said they recovered a shotgun, handgun and two assault rifles, inside Allman's abandoned vehicle. Behind the Arco station by old HP, But she still believes he is armed.
Local media and the internet where reporting it, But this got little attention from the Mainstream Media
CNN, CNBC and Fox news (who would jump to report about a Black man going Columbine at work) said almost nothing about the incident I saw mentioned once live but after that it was on the ticker at the bottom
Because October 5, 2011 was also the day Steve Jobs co-founder, chairman, and chief executive officer of Apple Inc passed away.(even the drudgereport.com had the shooting story up top for hour, then buried it to the bottom After Jobs death)
The MSM spent the day going on about how Steve Jobs was the Edison of our time. which I agree he was,
But the in the same area as Apple HQ the largest manhunt in Santa Clara County history was taking place
The law enforcement agencies involved in the manhunt where the San Jose, Campbell, and Sunnyvale police departments plus the Santa Clara Sheriffs also on seen was the FBI, US Marshals, and Homeland Security.(FBI, Homeland Security where on seen fast.)
-I personally saw Homeland Security vehicle on Stevens creek Rd and De anza around 11am 10/5/2011-
, (This man hunt lasted 27 hours and covered an area of less then 5 miles.)
--In 1939 the city of Cupertino consisted mostly of fruit orchards with very few inhabitants. Kaiser Permanente Cement was the only large manufacture in the area.
Currently owned and operated by Lehigh Southwest Cement, it was originally founded by Henry J. Kaiser as the Kaiser Permanente Cement Plant in 1939.
--Stevens Creek Quarry which is an directly adjacent to Lehigh Southwest Quarry and Cement, just outside of the Cupertino city limits on Stevens Canyon Road, has been in operation since 1932, producing crushed rock for the building industry.
This cement factory that, for reasons mundane or conspiratorial, operates 24/7. According to hearsay, it's run by some company called Heidelberg Cement. (Where its something for UFOs or a D.U.M.B for perform secret experiments for the government =) There is the constant rumbling of machinery. Sheds, multi-storied cement construction, pipes, other unidentified structures, spread here and there. The skeletal structures, machinery, high-powered lights pointing all over the place, a compound nested behind some hills, its existence unknown to most of the town's inhabitants…set your imagination on overdrive and you've got yourself a scene from The X-Files.. It is like a part of some industrial town right outside a piece of suburbia.
-- ALL right here in the Bay Area; Lawrence Livermore National Laboratory( LLNL,) and Sandia National Laboratories run by the Sandia Corporation (a wholly owned subsidiary of Lockheed Martin Corporation)
the train tracks that go from the quarry are private up to the main line tracks that head north right past the labs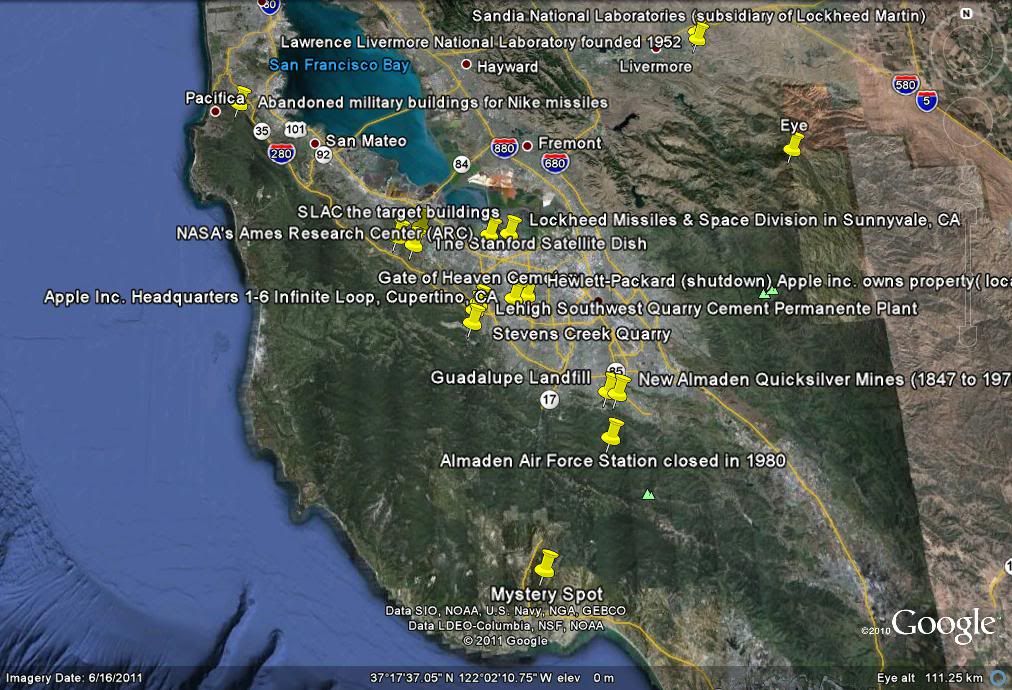 Within a 15min drive from the Quarry is Stanford Research Institute (SRI); NASA-Ams Research Center(ARC) next-store is Lockheed Martin's Lockheed Missiles & Space Company, Inc. and Onizuka Air Force Station (It is in the process of shutting down Onizuka and moving to Vandenberg AFB.)
This including Mercuryalso known as Quicksilver, has been mined in Santa Clara county since the gold rush and is a key ingredient for advanced technology; New Almaden Quicksilver Mine Closed down in 1927 but partly used till 60s Now its is Guadalupe landfill.
Mercury has a unique electronic configuration where electrons fill up all the available 1s, 2s, 2p, 3s, 3p, 3d, 4s, 4p, 4d, 4f, 5s, 5p, 5d and 6s subshells. As such configuration strongly resists removal of an electron, mercury behaves similarly to noble gas elements, which form weak bonds and thus easily melting solids
Mercury melts just above room temperature. With a freezing point of −38.83 °C and boiling point of 356.73 °C, mercury has many uses


liquid mercury was used as a coolant for some nuclear reactors; however, sodium is proposed for reactors cooled with liquid metal, because the high density of mercury requires much more energy to circulate as coolant.
Mercury was a propellant for early ion engines in electric space propulsion systems.

mysite.du.edu...

Today this cement plant is the single highest source of mercury emissions in the Country (more than any oil refinery) and located in one of the highest populated areas in the nation.
The TR-3B Antigravity Physics Explained--Edgar Fouche's description of the USA's Top Secret TR-3B triangular shaped nuclear powered aerospace craft. If not completely true has some truth to it,
read about it here:
fouchemedia.com...
" target="_blank" class="postlink" rel="nofollow">
fouchemedia.com...


It has been rumored for years that the military's black operations has perfected incredibly advanced gravity-defying triangular supersecret aerial platforms like the TR-3B's whose propulsion system as follows: " A circular, plasma filled accelerator ring called the Magnetic Field Disrupter, surrounds the rotatable crew compartment and is a technology using , Mercury based pressurized heated into plasma and accelerated to create a super-conductive plasma with the resulting gravity disruption. The MFD generates a magnetic vortex field, which disrupts or neutralizes the effects of gravity on mass within proximity, The requirement for a dense material moving at relativistic speeds would explain the use of Mercury plasma (heavy ions)."

en.wikipedia.org...
agnetic_levitation
This technology was said to have been started by the Nazis and further developed at Lawrence Livermore Lab by the USAF, SRI who developed, among other things, new uses for diamagnetic levitation in conjecture with Lockheed Martin and NASA