Contrary to undertakings China is increasing it's crack down on free speech at home. Do we really want to trade and play sports with this country ?
China has also demanded Nepal which already makes daily arrests of pro Tibet sympathisers, act even tougher to repress anti Chinese protests.
In New Zealand which is about to sign a free trade agreement with China, the New Zealand Government is Kow Towing to Chinese demands to prevent protests against China.
This is the thin end of the wedge.
In Western democracies now, Western Governments anxious to promote trade with China are actually suppressing democratic freedoms in their own countries.
This is an undeclared war by China to destroy our human rights in our own countries.
Why are USA and Britain unwilling to put their principles where their mouths are ?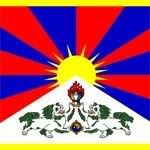 news.bbc.co.uk
(visit the link for the full news article)