PODcast:
Radio First Termer Iraq – Part 2 Of 6
WARNING – MILITARY HUMOR
First off, what a wonderful and fulfilling journey Dave has been on since finding out about his parallel life going on without him back in February 2006. Who would have believed at the time the original Radio First Termer Show in Saigon, Vietnam in January 1971, would lead to all that it has. Like the Phoenix rising from the ashes, "Dave Rabbit" emerged again to take his rightful place in the radio world with a vow to take no prisoners. Although the journey has been amazing and Dave has become involved with a lot of folks, one of the absolute highlights of the journey, besides the ATS family, was a 35th Anniversary Show that was put together for the Iraq Troops back in September 2006. On September 30th, 2006, Radio First Termer Iraq was broadcasted LIVE. With two outstanding partners, Charlie Cooper and the beautiful Nadirah, the team of Cooper, Nadirah and Rabbit, like the Saigon, Vietnam show 35 years earlier, made military entertainment history. This HD Anniversary Show is provided for your enjoyment. May the day come when we no longer have any troops, anywhere, in harms way. Peace!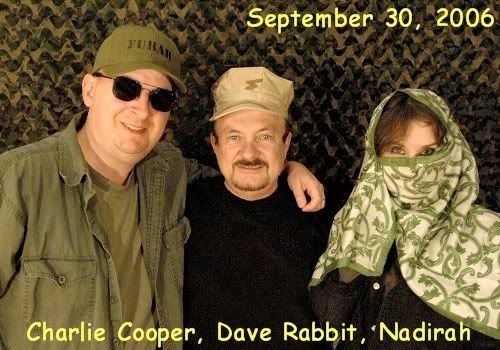 To

DOWNLOAD

This Program,

WINDOWS ONLY

, Put Your Mouse Cursor Over the

BLUE SHOW FILE NAME

, Then

RIGHT CLICK

. Slide The Cursor Down To

SAVE TARGET AS

And Then

CLICK

.... Now Just Decide

WHERE

You Want To Download The File To And

CLICK SAVE

. You Might Consider Creating A Folder Called

ATS MIX

since you can get them for

FREE

.

If You Enjoyed The Show –

FLAG THE MUTHA

!



LASTLY

.... there are over 200 different bits of

VIDEO COMEDY, AUDIO COMEDY, RANTS, SKITS, BITS, GAGS and MUSIC SHOWS

on Dave's

Pod-O-Matic

Podcast Home Page.

daverabbit.podomatic.com...

WARNING - SOME EXPLICIT MATERIAL.



PLEASE USE THE Pod-O-Matic SEGMENT TAGS AS YOUR GUIDE FOR APPROPRIATE LISTENING TASTES

.






length: 27:40
file: btsmpod_2603.mp3
size: 25948k
feed: btsm
status: live (at time of posting)

[edit on 9/28/2007 by Dave Rabbit]