On the heels of the article from BBC News,
Arab States Named More Corrupt
, I decided I would take a deeper look into the agency
Transparency International
, the conductors of the study.
Upon my visit I saw a quick poll at the bottom right of the screen, that asked, "In your view, how corrupt is your country?" So, of course I took the poll. This was the result of nearly 1,000 people polled in the United States: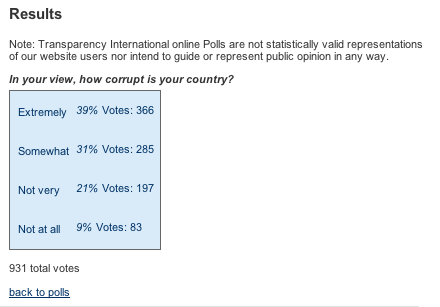 70% of voters thought that America was corrupt in some form. More than half of those thought that America was
extremely corrupt
.
Of course this poll in no way expresses the opinions of most American's, but it does show that those who are willing to take a deeper look into matters are held to the opinion that America is infiltrated by corruption.