Link

JERUSALEM (AFP) - An Israeli firm is to sell the United States 60 armoured vehicles for use by its troops in Iraq.

The Golan vehicles, produced by the Rafael firm, are valued at 37 million dollars and will be delivered within three months, army radio said Tuesday.

The 15-tonne armoured vehicle is designed to transport 10 soldiers and their equipment. It was first unveiled in September 2006 and four months later the US army ordered 60 of the vehicles, which are not yet used by Israeli forces.

The Golan is fitted with a "floating floor" to reduce the effects of exploding mines and is "particularly adapted to operations in densely populated urban zones," according to its manufacturer.

Israeli arms producers are already providing US troops in Iraq with drones, rockets and armour for tanks and armoured personnel carriers.
www.rafael.co.il...

The Golan has a monocoque structure which provides the strength to absorb the deformations generated by mines and IED blasts.
The crew compartment is designed to provide a modular armor protection system. The basic (maximum) protection level includes reactive modular armor tiles to defeat RPG's, IED's and up to 14.5 mm AP rounds, while the medium and light levels are based on passive modular armor to defeat small IED's and up to 12.7 mm AP bullets.
The Golan is 4x4 tactical vehicle, 15 tons GVW with 315 HP engine, that has exceptional maneuverability and tractability; on/off road, cross country terrain capability. The Golan can be operated efficiently in urban arenas as well as other complicates areas

The Golan's design philosophy provides maximum crew protection. The Samson RCWS (Remote Controlled Weapon Station), fire ports and hatches for additional fire possibilities add to its optimal survivability and lethality as an Armor Fighting Vehicle.

The Golan can be supplied with RAFAEL's Samson RCWS, SADS (Small Arms Fire Detection System) and other RAFAEL systems.
The Golan can be modified for the following applications:
Troop carrier, (8-10 troopers) or Armored Personnel Carrier (up to 10 troopers)
Command vehicle
Rescue missions
Ambulance
Designated logistics vehicle


Features and Benefits

Three configurations of protection levels to defeat threats of small arm ammunitions, Rocket Propellant Grenade (RPG), SC, EFP, IEDs and mines (under belly and under the wheels)
Hybrid reactive armor based on proven insensitive explosive material
Vehicle built of Minocqua 4x4 structure for optimal protection against mines and IEDs
High mobility, on road/off road maneuverability capabilities
Fuel tank for 600 km range
Turning radius less than 8 m for urban arenas
Air transportable on C 130
All automotive systems are US COTS automotive components
High payload capabilities
Vehicle interior configuration enable flexible design, up to 10 troopers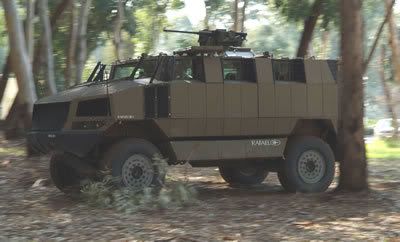 Nice looking vehicle. Impressive stats. Lets see what it can do in Iraq.