I love how it is somehow all Bush's fault but now that Obama is in office all the theft, bribery, corruption and looting is over with and everything is happy and rosy. Nothing like deluded individuals to make the politician's jobs easier. Here's an idea- why not try Obama for war crimes for bombing Pakistan and Libya. Dems and 'Pubs are just different sides of the same bad penny and don't think for one instant they're not.
As for the money- it was definitively stolen. I remember going to pick up contract payments as part of my job and they handed out money in duffel bags based on a billing invoice. CPA was as tore up an organization as you could think of.
But the situation has not improved. American/Coalition theft has been reduced to a fraction of a percent of what it was- now it's the Iraqis turn. For example a license to operate a trucking company costs 150,000 USD (as of 3 months ago) according to the GoI. That money goes into that guy's pocket until he amasses a couple million at which point he beats feet to Jordan or Syria and the next guy in line takes over. In order to do business you need to pay for the license and that cost gets passed on to us as taxpayers.
As for contractors- there are not 150,000- or whatever the latest number is- of security contractors. The total number of contractors under arms as of today is 14,548. The rest are Paki truckers, Bangladeshi laundry workers and Indian cooks who make between 500 and 1200 USD per month (FAR cheaper than what it costs to keep a US service member in the same slot). Certain specialties such as IT, intelligence and language get the big bucks but are still more cost effective as compared to drafting, training and deploying the necessary military personnel to do the same. Keep in mind the GI Bill, VA benefits, insurance, Tri-Care, dependent benefits..... A contractor is just that- no bennies, all the risks associated with being in theater and that is why the pay is so high. Want to deploy military personnel in those positions- bring back the draft to get the bodies are leave the AO in totalis. There's no halfway with this- nor is there an easy way, especially since the Obama administration forced the Iraqis to accept permanent bases in their country (VBC and Anaconda for right now).
In case you think I'm full of crap.... here's over 300,000 USD for a project to uparmor ISOF M1151 HMMWVs: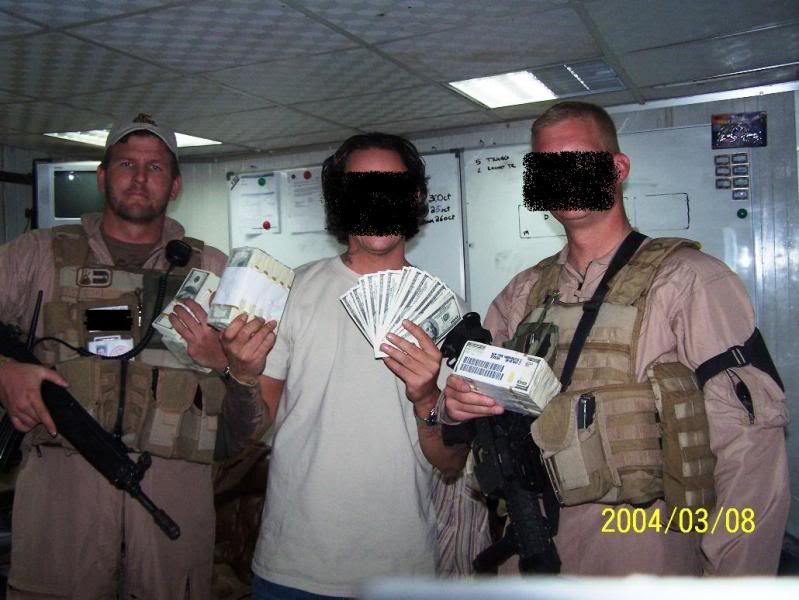 Just turned in an invoice for the client and a week later picked up the cash. It was that easy.
edit on 26-6-2011 by SFA437 because: (no reason given)