BEIJING (Reuters) – It was meant to be China's answer to the Nobel Peace Prize, a timely riposte to the honoring of jailed dissident Liu Xiaobo. But the winner of the first "Confucius Peace Prize" didn't even bother to show up. Instead, it was left to a scared-looking girl, whom organizers did not properly identify, to collect a stack of bills for the $15,000 cash prize meant for former Taiwan vice-president Lien Chan.

link
pretty funny story if you ask me. i am happy though that they chose to offer this prize to a former taiwanese politician who promotes peace between the two countries.
poor little girl though, suddenly thrown in to such a strange spot.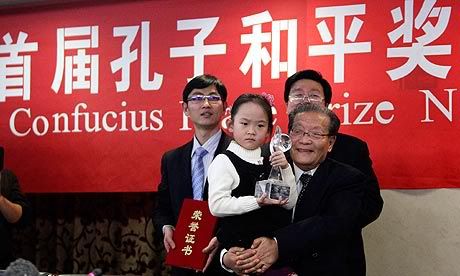 she'll probably look back and laugh at this picture in 20 years. world, meet your latest force for peace in the world.