...And i will include some of mine, ...right so if you do not understand what a Grade I listed buildings is then no problem, i will explain.
In the UK a listed building is a building that has been placed on "The Statutory List of Buildings of Special Architectural or Historic Interest" these buildings may not be demolished, altered etc... without special permission and planning rights, and aswell as buildings the list also contains Bridges, war monuments, etc etc...
There are three times of status within the listed buidlings and these are as follows:
-
Grade l
(Buildings of outstanding architectural or historic interest)
An example of a grade l building is Buckingham Palace, London, shown below
-
Grade ll*
(particularly significant buildings of more than local interest.)
An example of a grade ll* building is the Manchester City Hall in Manchester as shown below
-
Grade ll
(buildings of special architectural or historic interest)
An example of a grade ll building is the Whitechapel Bell Foundry In London shown below:
Now i've shared some insight into what Listed buildings are, i would like to speak a little quickly about some of my favourates and give an example of my favourates for each category.
One of favourate Grade l listed buldings in the UK is the Leeds corn exchange, it is a victorian building designed by Cuthbert Brodrick and completed in 1864, and is shown below: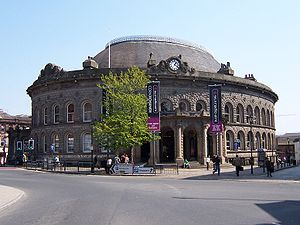 In the category of Grade ll* listed buildings one of my favourates in the UK is the All Saints Church in Runcorn, Cheshire, i geuss this means so much more to me as Runcorn is my Hometown, it is built in an early english norman style, however little is known about the architect, the church is shown belown:
And finally one of my favourate Grade ll listed buildings in the UK is the Bridgewater, house Runcorn, Cheshire (again ) now this building means a hell of a lot more to me than the church or the corn exchange as it is actually part of the Riverside Runcorn College, and i studied music in the building just a year ago ... the building is shown below:
www.runcornhistsoc.org.uk...
Now please remember, i really have not gone into depth with all this, the whole of my article has just been from my knowlege of listed buldings in the UK, with a little help from direct.gov.uk for exact dates etc...
So YEAH! let me hear some of your favourate listed buldings and maybe show me some picturess, i look forward to it!
peace x