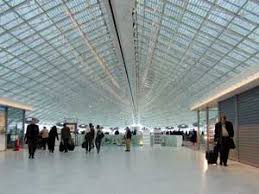 Sunday morning 6 people died when the roof of a newly contructed part of the Paris airport Charles de Gaulle collapsed. It was not immediately clear what caused the collapse, but cracks and falling dust had been reported before the collapse.
In August 2000, rock group U2 chose the airport to shoot the video for their single 'Beautiful Day'.
As you can see in this photo, taken from the U2 video, the roof is constructed out of glass and steel. Terminal 2E cost 750m euros to build and was opened in 2003.
Reports say sections of the roof fell onto a boarding footway. The passage in turn collapsed onto airport service vehicles parked underneath.
A spokesman for the airport said that the affected area had been relatively quiet at the time of the collapse. "Several tonnes of concrete and glass have collapsed," Laurent Vibert, a spokesman for the fire service told LCI television.
Rubble was strewn over a 30m area.
"Some people heard cracks before the accident and there was concrete dust coming from the ceiling. This was a very prestigious hall and it's a very hard day for us today," an airport spokesman told reporters outside the terminal.
Bloomberg
``We've set up a temporary hospital and we're clearing the debris so sniffer dogs can work on locating any more victims,'' said Captain Laurent Vibert, a spokesman for the Paris fire brigade, in an interview with all-news television channel LCI.
Among the injured were three policemen, the interior ministry said. Injured passengers were among a group who had arrived from JFK airport, New York, or were leaving for Newark, New Jersey, said the spokesman at the Crisis management center.
Interior Minister Dominique de Villepin is traveling to the scene of the accident.
Please visit the link provided for the complete story.
[Edited on 23-5-2004 by Zion Mainframe]