This is a follow up to a story that surfaced on April 23 about a creature that was captured on film by a woman in Qatar.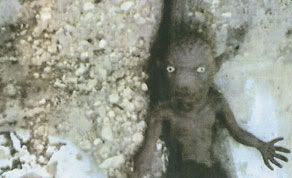 The following information was sent to the UFO Casebook by a reader who lives in Doha, State of Qatar.

Thanks for your response and for posting that article on your website.

While I honestly cannot vouch for the authenticity of the picture or the report, I have some observations based on my long association with the Qatari media:

1- Both the newspapers, Al Watan Arabic daily, which initially carried the report and the picture and Gulf Times, which published it the next day, are highly reputed media organizations here. They would not have published the picture and report, had they any doubt about its authenticity.

Under local cultures, newspapers and magazines here cannot publish names of women, without prior and explicit consent to do so.


Rest of the story can be read at:
The Qatar Creature
===========
If the photo is authentic, I think could be classified as a reptilian?? What do you guys think?
Mod Note: New External Source Tags – Please Review This Link.
[edit on 4/28/2009 by semperfortis]
[edit on 4/28/2009 by DarkElvis]