Hello again ATS.
First post in a while but had to do it.
There has been a great increase of UFO sightings in may area (and the world of course) but this time it was a good friend of mine who pictured one of the latest. The link takes you to the local rags website and the article however I do have a scan of the paper which can be found here: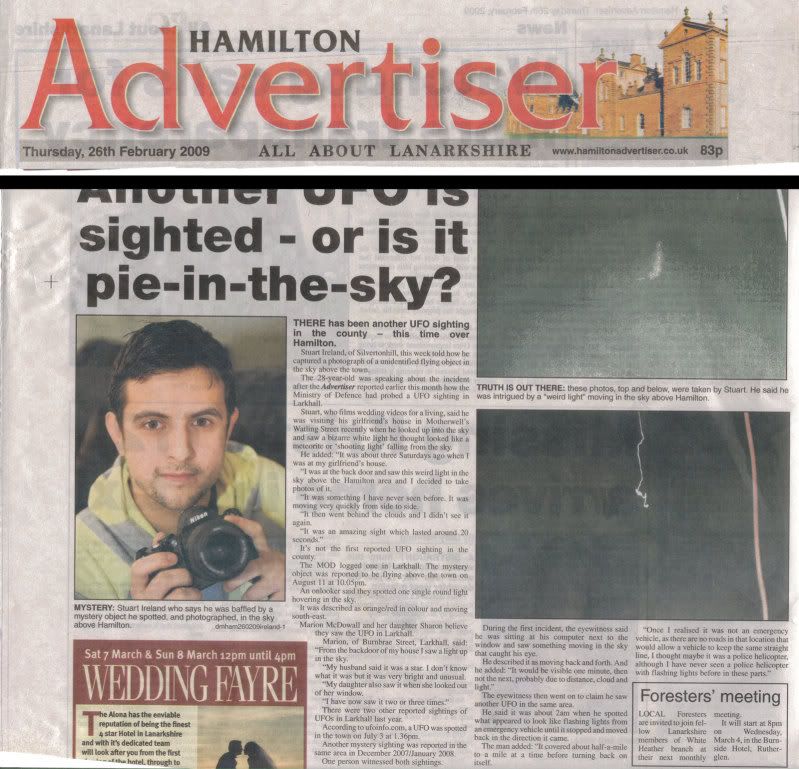 And of course the original photos found here: i112.photobucket.com...
EXIF data has been checked personally but feel free to take a look. I have no idea what the newspaper people have done to the topmost photograph in the article but it is not original content.
When talking to my friend about the incident he said that he was watching a bright light shaking in the sky. The photos have came out with startling results. I am not sure if this is the effects of a slow exposure but I did notice that digital zoom was used and may have that effect.
If anyone could analyze the photos and let us know what you think that would be great.
This has been the latest in a spate of sightings in and around our area. The local newspaper has more articles found here:
Larkhall MOD investigation
Blantyre UFO
Enjoy