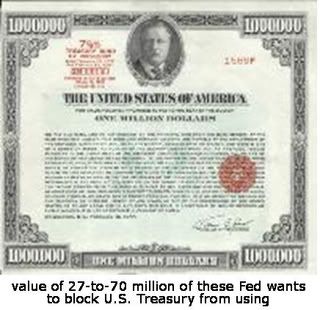 The bailout is a cover up of the largest unknown conspiracy of our time ... and if you wonder why you're seeing Goldman Sach and Citibank and Morgan Stanley in the news lately ... guess what? -- its a cover story detracting from the largest unknown ongoing conspiracy of our time: the private owners of the Fed -- including Citibank and Goldman Sachs and Morgan Stanley are trying to steal 20-to-70 trillion dollars of public money from the U.S. Treasury -- right now. Here's the story:
(or -- Fed bailing itself out in unknown conspiracy to steal 70 trillion from U.S. Treasury i.e. from the public)
answer: Foster went to Switzerland to get 250 million dollars from U.S. Treasury agent Wanta's custodial 27 trillion dollars, as per Clinton request, returned w/it, then Foster was murdered and Wanta imprisoned and a Mossad agent set free so Fed could steal 27-70 trillion dollars from the U.S. treasury ... then Wanta was freed by testimony of China & Israel leaders then CIA imprisoned him for insanity and said he was dead ... so Fed could steal the 27-70 billion dollars from the U.S. Treasury (Wanta kept offshore to prevent that). Meanwhile Hillary and G.H.W. Bush were stealing portions of the U.S. Treasury funds AND Alan Greenspan was put into prison for helping steal 1 billion dollars of the 27 trillion then pardoned for life by Supreme Court Justice Sandra O'day (or whatever her name was). WHY DIDN'T WE KNOW ANY OF THIS -- BECAUSE IT'S A CORPORATE MEDIA BLACKOUT.
In a nutshell, U.S. Treasury Secret Service Agent, Ambassador Leo Wanta was asked by Bush I to, and then did, get from 200 banks 27 trillion dollars to financially destabilize the Soviet Union. After being declared insane then declared dead by CIA, he was imprisioned ... but was freed when People's Communist Republic of China in 2003 AND the Prime Minister of Israel testified that HE WAS THE TRUSTEE OF THE 27 trillion dollars, and a U.S. court agreed.
THEN, the FED wanted to prevent the U.S. Treasury from owning the money (which would immediately cancel out the national debt and make America a prosperous country, overnight PLUS we could buy back our national debt from China and Russa and the rest of the world.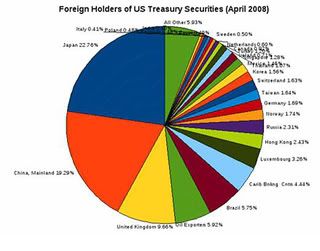 In 2003 Wanta in Federal Court was recognized as the legal trustee for the U.S. Treasury of 4.5 trillion dollars of the 27 trillion he had borrowed from 200 banks (that amount was a 'settlement', and that money passed to the U.S. Treasury, (I believe).
HOWEVER, it was a settlement and *I have attempted to contact Wanta and will see tomorrow morning if I have succeeded.
BECAUSE I want to find out the status of the settlement and the case. I also contacted Jim Marrs to see if he wanted to collaborate on a book, and also contacted the publisher of 'George Bush, the Mafia and the CIA' to see if he'll advance funds and publish the book, if it's written.
Since Wanta sheltered the money in offshore accounts SO THE FED COULD NOT STEAL IT -- I have to determine if in order to get the 4.5 trillion he forfeit 23 trillion dollars and if so, where it went -- OR -- if it's still out there with the Fed trying to steal it.
Here's the summarized almost-complete story including court documents*:
www.abovetopsecret.com...
then after you read that summary, it continues and completes here (on 'part 17') w/4-5 consecutive posts (concluding on 'part 21' & NOTE: add'l legal documentation is in the last couple posts):
www.abovetopsecret.com...
(I'll let you know if I'm successful contacting Wanta for confirmation and an update and if he'll let me interview him for a book.)
[edit on 30-9-2008 by counterterrorist]