I'm rolling down the main road about 15-20 mph headed south.
Not making much dust due to not much speed and also because the roads not completely dry from a rainstorm a few days back.
I spotted a white water tank ahead and on the left.
Now water tanks are pretty common and you don't always know when you're gonna run across one, but this one struck me as being in a strange place.
The mountain on the west side took off from the road and a half mile or so that way it got pretty steep.
To the east, a pretty steep rise and then after 200'-300' it leveled off into a narrow ridge.
When I got closer I saw the ravine below the tank area and realized I was looking at what was probably a collection area for the open range cattle that run wild in the area.
The only cattle I'd seen on the big ranch were usually down near the gated entrance next to the highway about 12 miles away.
When I got close I could see two bulls in a corral about a hundred feet off the road and down an easy incline from the main road where I was.
They ran out of the corral one behind the other and I thought for a moment that they'd busted the gate down, but when I looked closer I saw that the gate was tied open.
For a few seconds I wondered where the bulls were going in such a big rush, but when they hooked a 180 degree turn and were starting up the incline I realized they were coming toward me and the Ranger.
Geeze Louise . . . they were PO'd and they were big.
Forget that meat on the hoof stuff, these guys were testerone laden steer hides in the large size.
Did I mention they were in a state of bad temper?
Probably because they were wild as hell and maybe because all the cows were down the hill 12 miles away and they were . . . lonesome.
To their way of thinking, perhaps I was a potential competitor or simply a transgressor in their territory.
Not much of a tale to be sure, but I learned several things from this little adventure.
Just cuz you know what animals to expect to see doesn't mean that's all there's gonna be.
And the other . . . 22's have their place and time, but this is one time I wished the 44 mag had come along for the ride.
And maybe that I had one of those Great White Hunters from Africa along.
It says something about a guy when he figures a 458 Winchester isn't enough gun for some situations.
I know, the 458's have brought down a lot of African big game, but I note as well that African hunters sometimes carry rifles up to and including 600 caliber and at times were probably wishing it was a 900.
Those two were the biggest damn bulls I ever saw and even being a city boy, I've seen a few.
I think one of them could have chased a water buffalo back into the river and both of them woulda had an African lion thinking twice about jumping these bad boys.
I'm really glad that I didn't find out about these guys the hard way and on foot.
The trees in the immediate area are just barely tall enough to call trees.
Kinda funny, the dry lake where we like to shoot, there's a big ol longhorn bull that hangs out there.
He probably got away from the ranch up on the hill to the west and I haven't got a clue what he thinks he'll find out on the big dry lake.
Ever since we saw him, we've been keeping a better eye out than we used to.
The main paved road through the area is only a mile and a half or so up a mild grade, but if the truck quit I'd hate to have to walk out.
And if I do, I ain't goin' up the bulls favorite road down to the lake.
The brush ain't that thick.
Can't quite get over the two bulls.
I'll be thinking about them for a while.
I know one thing though, I always had respect for the Mexican Matadors who walked into the bullring to face down these big guys and the American Cowboys who rode off into the mountains and canyons by themselves to chase down open range cattle and bring em back for branding, the cattle drive or whatever.
Sometimes respect isn't a big enough word, but then again, perhaps it's enough to realize that I have a lot of it for these men.
There's not as many of them as there once was, but they're out there.
I tip my hat to them....
~~~~~~~~~~~~~~~~~~~~~~~~~~~~~~~~~~~~~~~~~~~~~~~~~~~
No photos of this particular trip, but here's a few taken in the general area to give you an idea of what the area looks like.
Easy part of the trail up to the lodge.
One of the year-round streams in the area.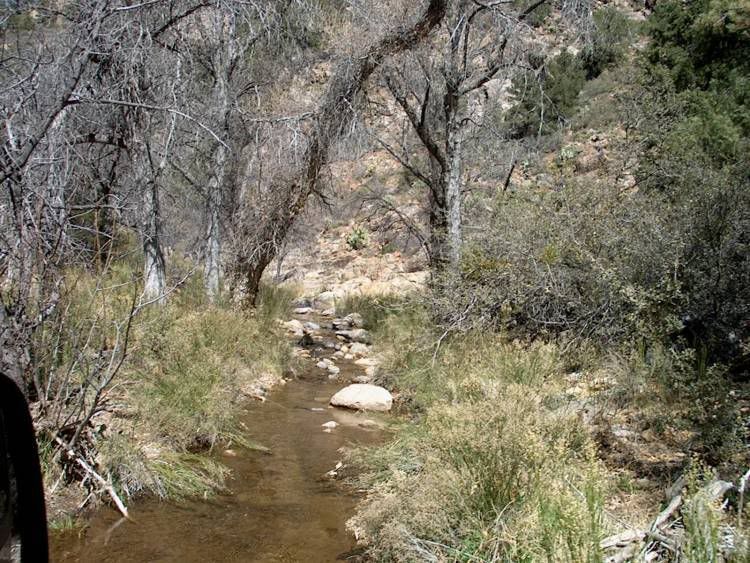 Again, the trail to the lodge with a Javelina barely seen up ahead.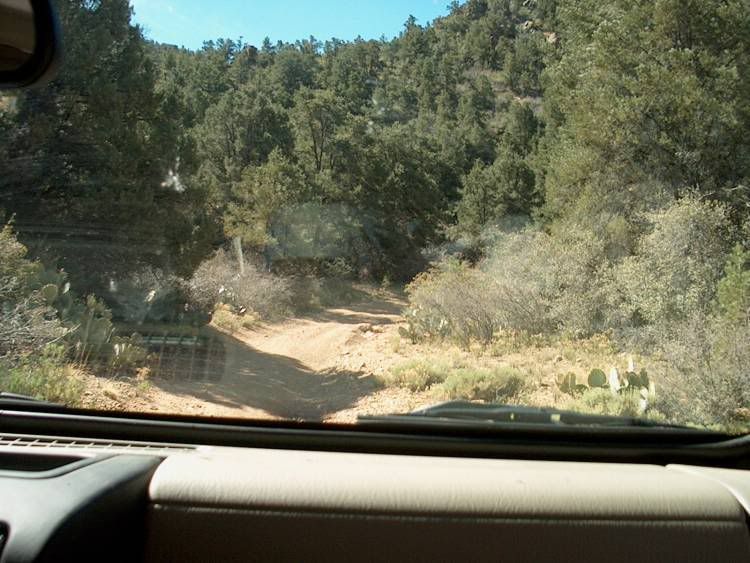 Overgrown part of the trail
I realize the trees shown here are taller than those described in the story, but we have a little more altitude here than down by the main trail, corral and trail head to the mine.
The dry lake shooting area looking south.
At the south end looking west.