Mar 2000 Guyana: human smuggling, ships Venezuela's drugs, U.S. Embassy busted w/gold bars, sells U.S. visas
(also see Insider's view of Guyana – from CIA coup in 1964 to 1998
www.abovetopsecret.com...
)
Looks like the CIA still embodies the U.S. Embassy in Guyana, just as in Jim Jones/Jonestown times.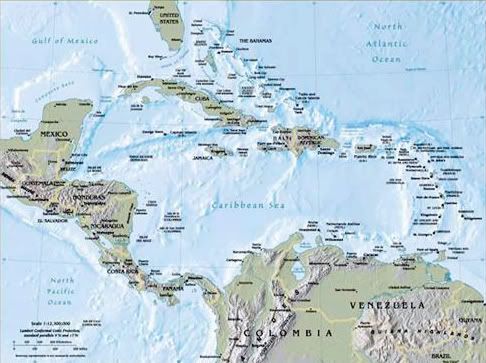 Note map – islands are tops of mountain ranges. This regions is the money laundering and drug laundering and drug supply & demand area of the west.
Also note all CIA maps:
www.cia.gov...
Guyana & Narcotics, Marijuana & Oil & "Human smuggling" from CIA World Book of Facts [url=]
www.cia.gov...
From (History of the Department of State During the Clinton Presidency (1993-2001)
www.state.gov...

A U.S. Embassy official assigned to Guyana and a Guyanese citizen were arrested in Chicago and Miami and charged with conspiracy to sell U.S. visas in Guyana. Agents of the Bureau of Diplomatic Security and OIG Investigators, together with U.S. federal and local law enforcement agencies, the Department of Justice's Public Integrity Section and the U.S. Attorney's Office, executed numerous search warrants over the weekend of March 18, 2000. Authorities seized more than $500,000 in U.S. currency and 10 gold bars from safe deposit boxes controlled by the American embassy employee. Additionally, authorities restrained funds in 12 accounts controlled by the embassy employee at four different financial institutions and seized assets totaling more than $535,000 on March 20, 2000.
From CIA's field drug producer & consumer listings
www.cia.gov...
[/url

June 10, 2008 update: transshipment point for narcotics from South America - primarily Venezuela - to Europe and the US; producer of cannabis; rising money laundering related to drug trafficking and human smuggling
DID CIA STAGE COUPS FOR THE INDEPENDENCE OF GUYANA FROM THE UK & INSTALL JONESTOWN & HILLTOWN AS 'CONTROLS' OVER THE BLACK POPULATION?
formerly: British Guiana, achieved independence from UK -- 26 May 1966 (from UK)
bauxite, gold, diamonds, hardwood timber, shrimp, fish –
exports: sugar, gold, bauxite, alumina, rice, shrimp, molasses, rum, timber
from CIA World Book of Facts [url=]
www.cia.gov...

Originally a Dutch colony in the 17th century, by 1815 Guyana had become a British possession. The abolition of slavery led to black settlement of urban areas and the importation of indentured servants from India to work the sugar plantations. This ethnocultural divide has persisted and has led to turbulent politics. Guyana achieved independence from the UK in 1966, and since then it has been ruled mostly by socialist-oriented governments. In 1992, Cheddi JAGAN was elected president in what is considered the country's first free and fair election since independence. After his death five years later, his wife, Janet JAGAN, became president but resigned in 1999 due to poor health. Her successor, Bharrat JAGDEO, was reelected in 2001 and again in 2006. [and, natural resources include] bauxite, gold, diamonds, hardwood timber, shrimp, fish. … exports: sugar, gold, bauxite, alumina, rice, shrimp, molasses, rum, timber
NOTE that bauxite & alumina are used in the creation of aluminum, and as I recall, I.G. Farben held necessary patents on aluminum.
(cont)

the third-smallest country in South America after Suriname and Uruguay; substantial portions of its western and eastern territories are claimed by Venezuela and Suriname respectively
OIL RIGHTS DISPUTED W/SURINAME
(cont)

all of the area west of the Essequibo River is claimed by Venezuela preventing any discussion of a maritime boundary; Guyana has expressed its intention to join Barbados in asserting claims before UNCLOS that Trinidad and Tobago's maritime boundary with Venezuela extends into their waters; Suriname claims a triangle of land between the New and Kutari/Koetari rivers in a historic dispute over the headwaters of the Courantyne;


Guyana seeks arbitration under provisions of the UN Convention on the Law of the Sea (UNCLOS) to resolve the long-standing dispute with Suriname over the axis of the territorial sea boundary in potentially oil-rich waters
(cont)

based on English common law with certain admixtures of Roman-Dutch law; has not accepted compulsory ICJ jurisdiction
(cont)

Chronic problems include a shortage of skilled labor and a deficient infrastructure. The government is juggling a sizable external debt against the urgent need for expanded public investment. In March 2007, the Inter-American Development Bank, Guyana's principal donor, canceled Guyana's nearly $470 million debt, equivalent to nearly 48% of GDP. The bauxite mining sector should benefit in the near term from restructuring and partial privatization, and the state-owned sugar industry will conduct efficiency increasing modernizations. Export earnings from agriculture and mining have fallen sharply, while the import bill has risen, driven by higher energy prices. Guyana's entrance into the Caricom Single Market and Economy (CSME) in January 2006 will broaden the country's export market, primarily in the raw materials sector.
also, see CIA's appendices, for example, 'abbreviations'
www.cia.gov...
,
also see Bush & Bormann (4th Reich) linked to Jonestown thru Union Bank & to Obama
www.abovetopsecret.com...
Jonestown site linked to Union Carbide, Dow Chemical, & I.G. Farben/Bormann -- 4th Reich companies
www.abovetopsecret.com...
[edit on 19-6-2008 by counterterrorist]
[edit on 19-6-2008 by counterterrorist]