Obama (almost?) backed by Bush & Deutche Bank, Union Bank, Brown Bros Harriman, neo-Nazi's & ex-Enron execs, (not to mention, Carlyle)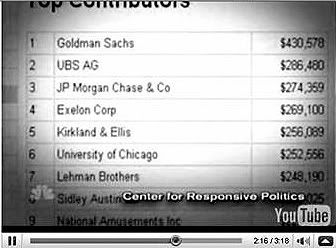 Above are contributors to Obama's senate campaign.
I know why Johnson stepped down off Obama's team AND why he resigned from Fannie Mae.
My opinion is that it's to avoid the press finding out that Johnson and Pearl's investment bank, Perseus, LLC. includes on its board the Bush organization -- (not only Carlyle Group) -- but the following nazi and neo-nazi affiliates.
However, how much did Obama know? I don't think he knew very much about it, about how deep it went.
UNION BANK
Michael L. Miller -- He founded and led UBS Capital GmbH, the Frankfurt-based private equity investment unit of the Union Bank of Switzerland Group in Germany. (**This is a direct connect to the Bush dynasty's current networking w/Third & Fourth Reigns & NWO-Bormann org.**)
BROWN BROTHER'S HARRIMAN
J.T. Mauk -- Mr. Mauk worked for Brown Brothers Harriman & Co
ANOTHER BUSH NAZI & NEO-NAZI LINK to the NWO-Bormann organization.
ENRON
John T. Schwieters (Washington, D.C.) is a Vice Chairman of Perseus. Prior to joining Perseus, Mr. Schwieters was the Managing Partner of Arthur Andersen (accountant firm for Enron)
THIS IS A DIRECT LINK TO BUSH/CHENEY/AFGHANISTAN PIPELINE RIP-OFFS OF CALIFORNIA BILLIONS.
DEUTCH BANK, BROWN BROS HARRIMAN - direct Nazi & neo-Nazi/NWO-Bormann activity.
Christian T. Staby is a Managing Director of Perseus' affiliate in Germany, Perseus Beteiligungsberatung GmbH. a former Vice President in the Corporate Strategy Division of Deutsche Bank AG. While there, he led the development of the Global Corporate and Investment Banking unit's five-year strategic plan. Mr. Staby was a Case Team Leader in the Munich office of Bain & Company from 1996 to 1999, and has also held positions at Sal. Oppenheim Jr. & Cie., Brown Brothers Harriman & Co., and Massalin Particulares S.A. Mr. Staby is a member of the Board of Directors of SEVA Energie AG.
Obama's 'insider's insider' Fannie Mae CEO Johnson RESIGNS and steps down from committee to find vice president.
elections.foxnews.com...

Barack Obama's first act as the presumptive Democratic presidential nominee was to appoint a vice presidential search team. One of the team members was former Fannie Mae CEO Jim Johnson, whose associations with sub-prime lender Countrywide Financial and other corporations touched off a controversy that led to his resignation this week. FOXNews.com Political Reporter Judson Berger takes a look at how that reflects on the Obama campaign mantra of change.

Barack Obama rose to clinch the Democratic nomination on a platform of change, but when it came time to kick off the search for a running mate, he turned to the insider's insider.
Also see:
www.abovetopsecret.com...
'
[edit on 13-6-2008 by counterterrorist]