General characteristics
Crew: 2
Length: 63 ft 0 in (19.2 m)
Wingspan: 38 ft 4.5 in (11.7 m)
Height: 16 ft 6 in (5.0 m)
Wing area: 530.0 ft² (49.2 m²)
Airfoil: NACA 0006.4-64 root, NACA 0003-64 tip
Empty weight: 30,328 lb (13,757 kg)
Loaded weight: 41,500 lb (18,825 kg)
Max takeoff weight: 61,795 lb (28,030 kg)
Powerplant: 2× General Electric J79-GE-17A axial compressor turbojets, 17,845 lbf (79.6 kN) each
Zero-lift drag coefficient: 0.0224
Drag area: 11.87 ft² (1.10 m²)
Aspect ratio: 2.77
Fuel capacity: 1,994 US gal (7,549 L) internal, 3,335 US gal (12,627 L) with three external tanks
Maximum landing weight: 36,831 lb (16,706 kg)
Performance
Maximum speed: Mach 2.23 (1,472 mph, 2,370 km/h) at 40,000 ft (12,190 m)
Cruise speed: 506 kn (585 mph, 940 km/h)
Combat radius: 367 nmi (422 mi, 680 km)
Ferry range: 1,403 nmi (1,615 mi, 2,600 km) with 3 external fuel tanks
Service ceiling 60,000 ft (18,300 m)
Rate of climb: 41,300 ft/min (210 m/s)
Wing loading: 78 lb/ft² (383 kg/m²)
Thrust/weight: 0.86
Lift-to-drag ratio: 8.58
Takeoff roll: 4,490 ft (1,370 m) at 53,814 lb (24,410 kg)
Landing roll: 3,680 ft (1,120 m) at 36,831 lb (16,706 kg)
Armament
1x 20 mm M61 Vulcan gatling cannon, 639 rounds
Up to 18,650 lb (8,480 kg) of weapons on nine external hardpoints, including general purpose bombs, cluster bombs, TV- and laser-guided bombs, rocket pods, air-to-ground missiles, anti-runway weapons, anti-ship missiles, targeting pods, recce pods, and nuclear weapons. Baggage pods may also be carried. External fuel tanks of 370 US gal (1,420 L) capacity for the outer wing hardpoints and either a 600 or 610 US gal (2,310 or 2,345 L) fuel tank for the centerline station can be fitted to extend the range.
4x AIM-7 Sparrow in fuselage recesses plus 4x AIM-9 Sidewinders on wing pylons; upgraded Hellenic F-4E and German F-4F ICE carry AIM-120 AMRAAM, Japanese F-4EJ Kai carry AAM-3, Hellenic F-4E will carry IRIS-T in future. Iranian F-4s could potentially carry Russian and Chinese missiles. UK Phantoms Skyflash missiles [105]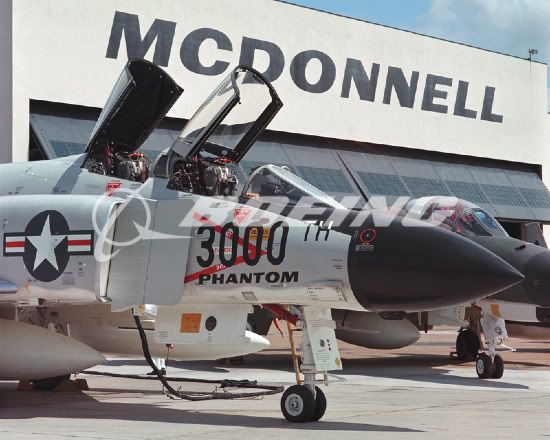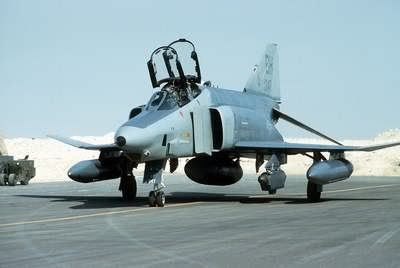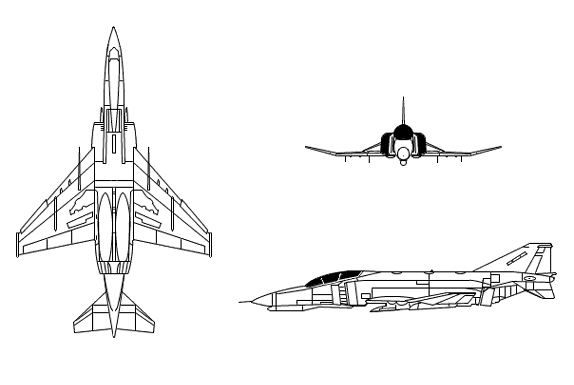 Number built 5,195
wiki
Phantastic plane indeed.
True legend of the skies.