FOX ATTACKS: Iran
I found this video on YoutTube this morning. I searched ATS, but didn't find anything posted thus far.
The fact that Christiane Amaanpour from CNN flatly states that her station was pressured by the administration AND it's "foot soldiers at FOX News" to push the Iraqi Conflict into the homes of the world is enough proof for me.
Of course I've know there's been media manipulation for decades now, people still see the idea as a kooky conspiracy theory.
It really makes you wonder what's REALLY going on in Iran. Are they developing weapons of mass destruction, or are they developing nuclear power for their people?
The fact remains that the U.S. wants Iran's
Real Estate
: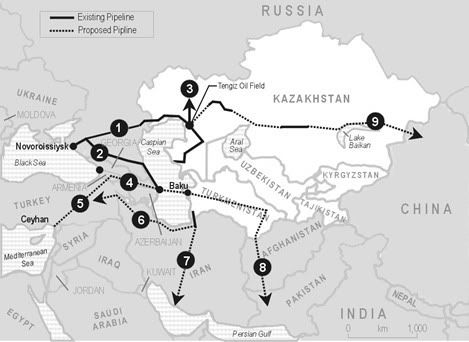 The Iranian routes. The US government opposes a Baku-Iran-Ceyhan route because of Iran's alleged support of international terrorism. US oil companies are not allowed to ship their oil through Iran, although it is the shortest, cheapest and easiest route to an open port. Iran's preferred route is a pipeline south from the Caspian Sea to the Persian Gulf (Route 7). Iran has an extended pipeline system in place, and Turkmenistan opened a gas pipeline into Iran in December 1997.14 This comparatively inexpensive option would bring the oil and gas to the troubled Persian Gulf with its easily closed Strait of Hormuz. The United States opposes this pipeline and tries to enforce the sanctions, but other nations' oil firms ignore the sanctions and cut oil deals with Iran.
EDIT: Fixed the youtube video link.
[edit on 23-8-2007 by tyranny22]