Bing was no doubt one of his era's most complete players. Due to his atletic ability, his mental toughness, it made him an awesome figure and almost impossible to stop. He was a leader on and off the court, a high-scoring guard with plenty of speed, he was the thinking mans basketball player. Bing may be only remembered for the feat he achieved in 1968 (NBA scoring champion 27.1 ppg) but few fail to realize the player he was. His speed allowed him to drive by most defenders leaving them in his wake, and his abiltiy to jump allowed him to get in the thick of the action under the basket. One look at his stats and people may think he was a shoot first player but Bing was a team player, his contribution to the team was second to none with accurate screens and timely passes.
David Bing was born on November 24th 1943 in Washington DC. He grew up in the same neighbourhood that produced Elgin Baylor. But it wasn't basketball he started playing it was baseball. It wasn't until he attended Washington's Spingarn High School, where basketball coach William Roundtree encouraged him to take up the sport. In Bing's senior year he was one of seven players on the varsity squad to average double figures in scoring. Bing excelled in both baseball and basketball, but a scheduling conflict between tournaments in each sport forced him to make a reluctant choice. He opted for hoops and went on to be voted tournament MVP.
Bing started out at Syracuse University in the summer of 1965, his junior year. Bing chose Syracuse at the urging of Ernie Davis, a football All-American at Syracuse. Bing also confessed that he chose Syracuse partly because he doubted his own skills and thought his chances of standing out in college would be better in a lower profile basketball program. He struck up a friendship with Bill Bradley, who was not exceptionally athletically gifted. But Bradley really knew how to play the game letting his mind make up for his lack of athleticism. As a college senior Bing's game flourished,being the 5th leading scorer in the nation with 24.8 ppg. Bing's performance at Syracuse was hardly low profile. In three varsity seasons he averaged 24.6 points, earning All-America honors as a senior. Pro scouts buzzed about him, and the Detroit Pistons made him the second overall pick in the 1966 NBA Draft (behind Cazzie Russell).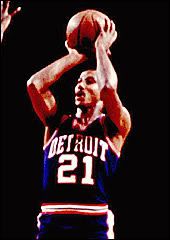 Bing's NBA debut was bad to say the least. Coming off the bench, he missed his first six field-goal attempts and recorded the first scoreless game of his life. It wasn't until a few weeks later he was given his chance to start and his impact was immediate. He connected with his first eight shots and put in a great disply. In the very next game he went on to score 35 points, his career was off and running. His on-court abilities and off-court leadership thrust him into the forfront of the franchise and won him the 1967 NBA Rookie Of The Year award with 1,601-points. He was only the sixth rookie in NBA history to top 1,600 points. It was his second season where he was to really make his mark. He went on to score 2,142 points (27.1ppg) to lead the league in scoring, it was no mean feat as he outscored such high-scoring superstars as Elgin Baylor and Wilt Chamberlain. Bing was the first guard to set the scoring pace in 20 years (since Max Zaslofsky of the 1947-48 Chicago Stags of the Basketball Association of America). His feat was that great he even managed to nudge the Lakers' Jerry West from the All-NBA First Team that season. Bing continued to put in fantastic performances and he reached his peak in 1971 with his explosive scoring. But on the eve of the 1971-72 season Bing came perilously close to losing the sight in his right eye. In a freak accident he was jabbed in the eye which caused him to have a detached retina, it severely limited his vision but he made it back for the second half of the season.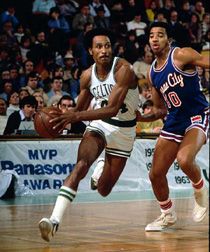 The early 1970s were a time of great promise and even greater frustration for the Pistons. In 1973-74, following the most successful regular season (52-30) since the franchise moved to Detroit in 1957, the Pistons finally made the playoffs only to be ousted in the first round by the Chicago Bulls. The following season, despite sagging to a 40-42 regular-season record, the Pistons again made the playoffs but were ousted in the first round, this time by the Seattle SuperSonics. Frustrated after nine seasons with Detroit, Bing again sought a chance to play in his hometown. The Pistons accommodated his request prior to the 1975-76 season, trading him to the Washington Bullets with a first-round pick for Kevin Porter. The hometown reunion did not prove triumphant. Although Bing had one more brief moment of exultation, earning MVP honors at the 1976 NBA All-Star Game, his two seasons with the Bullets were marked by coaching confusion and increasing struggles with his vision. His point production sank to a career-low 10.6 per game in 1976-77, and Washington released him at season's end. Not yet ready to hang up his shoes, Bing found a home for one more season with the Boston Celtics, serving as a third guard and appearing in 80 games with an average of 13.6 points per game. He finally retired after the 1977-78 campaign.
To summarise up David Bing, he was not only one of the best players the NBA have seen, he was a leading example. Long gone are the visions of Bing driving it to the basket, his explosive game and his many battles on the court with the games top guards at the time. It earned him a spot in the Hall of Fame in 1990, a spot on the NBA's 50 greatest players list and in 1977 he won the J. Walter Kennedy Citizenship Award for his many contributions off the court. As founder of Bing Steel, he was named the "National Small Business Person of the Year" and "National Minority Supplier of the Year" in 1984. His number 21 jersey was retired by Detroit, and at the 1990 NBA All-Star Game, he received the Schick Achievement Award for his work after his basketball career.
Born: 11/24/43 in Washington, D.C.
High School: Spingarn (Washington)
College: Syracuse (1966 All-American)
Drafted: Detroit Pistons, 1966 (second overall)
Transactions: Traded to Washington Bullets, 8/28/75; Signed with Boston Celtics, 9/28/77 Height: 6-3
Weight: 185 lbs.
NBA Honors: Elected to Naismith Memorial Basketball Hall of Fame (1990); All-NBA First Team (1968, '71); All-NBA Second Team (1974); Rookie of the Year (1967); J. Walter Kennedy Citizenship Award (1977); One of the 50 Greatest Players in NBA History ('96).
Sources
Answers.com
Hoophall.com
NBA.com