Undoubtedly one of the top five greatest players of all time, he possessed a fantastic technique, great skill, pace, shooting and although he played up front, he created many chances for others with his pin-point accurate passing from deeper positions. Such was his natural talent, the Dutch Master enjoys an undisputed reputation as one of the game's all-time greats.
He won a hat-trick of European Cups with Ajax, the World Clubs' Cup and was three times European Footballer of the Year. At their peak, the Dutch side he had captained had the most exciting talent in International football. Yet, ironically, Holland during his reign never won any major trophy. Cruyff was one of a number of youngsters who emerged with Ajax of Amsterdam in the late Sixties and came to dominate European and world football in the early Seventies. Cruyff was the most outstanding of them all and was seen by many as the natural successor to Pele as the world's greatest player.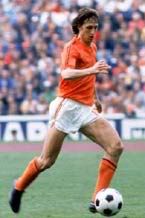 Johannes Hendrikus Cruyff was born two years after the end of the Second World War, on 25 April 1947 in Amsterdam. He was brought up in the shadow of Ajax Amsterdam's stadium and training ground, where his mother worked. His father died from a heart attack when Johan was 12. From a very early age, the young Cruyff set his sights on one thing alone: becoming a professional footballer. He began formal training when he was seven years old, and to his mother's horror, left school at 13 to concentrate exclusively on sport. Coaching legend Rinus Michels spotted the slightly-built youth's talent, and designed an exercise programme aimed at developing his frail physique to withstand the rigours of a professional career. Cruyff quickly won a place in Ajax's first team, and in 1966, at the age of 19, picked up the first of nine Dutch league titles destined to come his way. Barcelona then won the race to sign the sought after player. Costing a the world record 922,000. When he arrived in Spain Barcelona were struggling down the table, but by the end of the season and after a 20 game unbeaten run they were champions. With Barcelona Johan went on to complete his hat-trick of European Player of the Year awards.
His greatest achievement as an international came in the 1974 FIFA World Cup finals in Germany. Holland went into the tournament with few expectations, having only barely qualified and with the team giving little indication that they were comfortable with coach Rinus Michels' tactics. The pieces of the puzzle fell into place just in time however, and, after the first round, Holland were unanimously appointed the leading favourites for the title by the world press. He took Holland through round after round famously beating Brazil in the last group match. Johan scored Holland's second and decisive goal in a 2-0 victory. Even though Holland lost the final to West Germany it was the start of a new era in International football.
He was a prolific natural footballer one of the greatest to have played the game. Identified as a Centre Forward he was as unorthodox as the number 14 he wore suggested and was often found in the midfield and on the wings using his pace and touch to such effect. Single handed he not only took Internazionale of Italy apart in the 1972 Champions League final but scored both goals in Ajax's 2-0 win. The following year he masterminded another European Cup win over another Italian team, Juventus. For one of the greatest players of all time, Cruyff's international career was relatively short. He made his debut for the Dutch national side against Hungary in September 1966, and would go on to make 48 appearances for the "Oranjes" before calling time in October 1977. His last feat as an international was to help Holland qualify for the 1978 World Cup in Argentina, though even then he was only called up for the important games.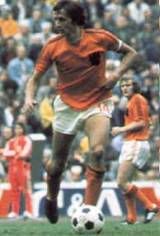 He announced his retirement in 1978, only to resurface in May 1979 in the US Professional League. He played for two seasons in the US and then less than a dozen matches for Spanish second division side Levante before returning to Ajax Amsterdam in the summer of 1981. In 1983 he moved to arch-rivals Feyenoord Rotterdam, enjoying one final taste of glory as a player as his new team did the domestic double. In his mid-30s, Cruyff was amazingly playing some of the best football of his life and was voted Dutch Footballer of the Year in 1983 and 1984. The best Dutch player of all time hung up his boots once and for all in 1984. He returned to the game in 1985 as the coach of Ajax, starting a new chapter in his life. Cruyff had no experience in coaching or qualifications, except his footballing 'brain'. Surprisingly he was able to motivate Ajax to European Cup winners' Cup victory in 1987. In his second stint as a manager, Cruyff moved to Barcelona in place of Terry Venables. Cruyff was able to turn around the fortunes of the club. What is more, he inspired Barcelona to bag the European Cup and thereby help the Spanish club to rid the label of being considered second best to Real Madrid.
Playing career
Clubs
1964-1973: Ajax Amsterdam (Netherlands)
1973-1978: Barcelona (Spain)
1979: Los Angeles Aztecs (USA)
1980-1981: Washington Diplomats (USA)
1981: UD Levante (Spain)
1981-1983: Ajax Amsterdam (Netherlands)
1983-1984: Feyenoord Rotterdam (Netherlands)
Club honours
1966 Dutch Championship winner
1967 Dutch Championship winner
1967 Dutch Cup winner
1968 Dutch Championship winner
1970 Dutch Championship winner
1970 Dutch Cup winner
1971 Dutch Cup winner
1971 European Champions Cup winner
1971 European Footballer of the Year
1972 European Champions Cup winner
1972 Dutch Championship winner
1972 Dutch Cup winner
1972 World Club Cup winner
1973 Dutch Championship winner
1973 European Champions Cup winner
1973 European Super Cup winner
1973 European Footballer of the Year
1974 Spanish Championship winner
1974 European Footballer of the Year
1978 Spanish Cup winner
1982 Dutch Championship winner
1983 Dutch Championship winner
1983 Dutch Cup winner
1983 Dutch Footballer of the Year
1984 Dutch Championship winner
1984 Dutch Cup winner
1984 Dutch Footballer of the Year
International honours
48 caps (33 goals), 33 as captain
1974 FIFA World Cup Germany runner-up and Player of the tournament
Coaching career
1985-1988: Ajax Amsterdam
1988-1996: Barcelona
Coaching honours:
1986 Dutch Cup winner
1987 Dutch Cup winner
1987 European Cup Winners Cup winner
1989 European Cup Winners Cup winner
1990 Spanish Cup winner
1991 Spanish Championship winner
1992 Spanish Championship winner
1992 European Champions Cup winner
1992 European Super Cup winner
1993 Spanish Championship winner
1994 Spanish Championship winner
Sources
Fifa WorldCup.com
ifhof.com
[Edited on 1/2/05 by TRD]