In early January, 1997 while backing out of my driveway,
I saw this in the lower southern sky: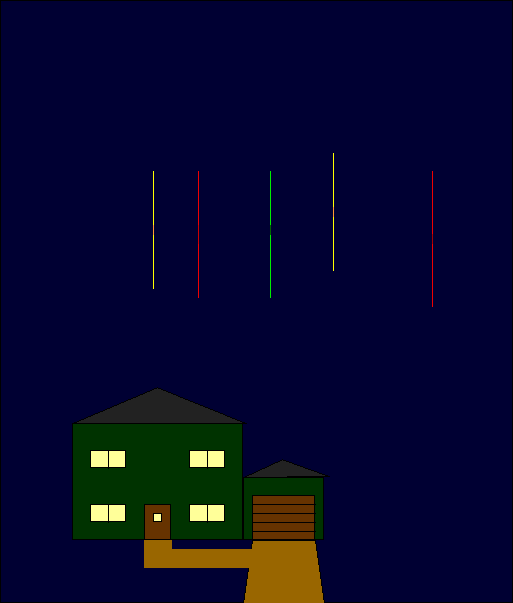 It was about 5:00 AM (2 1/2 hrs. pre-sun) and the temperature was about -10 F.
At first I figured this was up in the ionosphere, because I'd never seen
anything like it in the troposphere. In the middle of these light streaks was a WELL DEFINED vertical rectangle with the aspect ratio of a 12oz. beverage can. That part appeared to be solid and glowing, (or translucent and lit from within). Coming out of the top and bottom of the "cans" were columns of light. They were the same diameter and color as the cans, but faded out rather abruptly at a distance, like how your automobile head lights seem to abruptly halt in a fog bank. These light columns did not splay or converge, but were perfectly columnated.
I temporarily lost sight of them while driving through my winding neighborhood streets. I stopped at a gas station about a half mile or so down the road, and got out of my vehicle to have another look. The glare from the overhead gas station lights was intense, but not intense enough to totally wash out my view of the colored streaky lights. They were higher in the sky and larger than before.
As I drove south, they got bigger.
I lost sight of them again while winding through our small down-town area. I came up on a traffic signal and had to stop for the red light. Since I was facing south I decided to look up at them again. I couldn't see them any more so I looked to my left for oncoming traffic:
WOW--LOOKIT THAT--THEY'RE RIGHT OVER THE HARDWARE STORE.
I need a witness for this, since no traffic is coming from the left, I'll look to my right.
No traffic coming that way either, just ANOTHER GROUP OF THE SAME TYPE OF SKY STREAKS A QUARTER MILE DOWN THE ROAD.
SCREW THIS--I DON'T WANNA BE HERE--I DON'T WANNA BE SEEING THIS.
I was major league scared, VIOLENTLY AFRAID.
To make matters WORSE, the colors of the sky lights were EXACTLY the same as the traffic lights. They were the same color, hue, shade, saturation, relative intensity, sparkle factor, and any other photo-specific description there is, an EXACT MATCH.
Theox